Wednesday, March 19th, 2014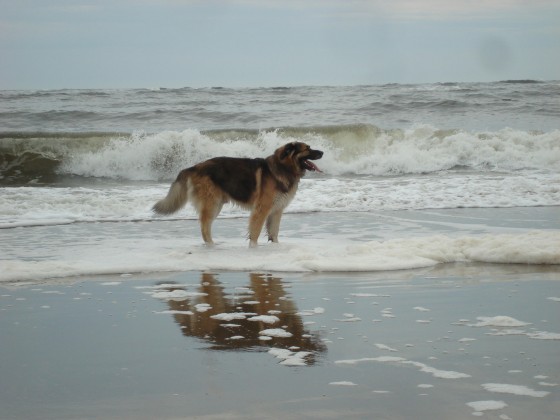 Would you say my friend, Canis Lacuk, is a slimy beach? Of course you wouldn't. But one Peteris Cedrins did just that. Self-appointed poet laureate Cedrins was not provoked in any way. Canis was just there, on FB, along with other "friends".  But Cederins, already enraged by one thing or another, just needed to lash out. And who better for the poet to kick than a dog? To give him credit, or discredit, I think he meant bitch, but that too is bizarre since Canis has never hidden the fact that he's male.
The random rage displayed by Latvian men living in Latvia is truly baffling. One other ragenick is self-proclaimed film maker Juris Eksteins who lashed out at me on one of his posts because I wrote that I did not like the film Last Tango in Paris. But he did. What a reason to go ballistic!
Why are these guys a heartbeat away from a complete psychotic break?
My friend Parsla Blakis writes that it's because they have to watch Stalin's May 8 celebratory march every year. That's a bit of levity, on Parsla's part. But, most probably, whether the guys are pro or contra, it's a good day to get wasted.
Still, there are other reasons for this uncontrolled rage.
Latvia is traditionally a patriarchal society. It is also, unfortunately, a brutal society where the man of the house, the muzhik, feels he can kick the cat, beat the dog, slap around the wife and kids. (I'm sure there are Latvian men who escape this characterization but not these guys.)
Both Eksteins and Cederins are unemployed. How else would they have time to post endless reams of self-important stuff? But their fixation on FB is not enough for a real life. In frustration they turn to kicking the nearest cat– or my friend Canis, or myself, for that matter.
Plus there's the drinking and smoking and strained relationship with the opposite (or same, as the case may be)sex. When I lived in Latvia my female friends were interested in "arzemnieki." So what's a scruffy, unemployed ragenick to do? Well, go on LV FB and rage some more.  That really is the only place a ragenick can vent legally without being hauled off to a Russian-speaking jail cell where there is no Internet access.