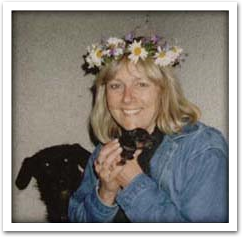 Ilze Berzins on Midsummer's Eve in Saulkrasti, Latvia 1996. Beside her is Happy, who has just given birth to her puppy, Honey. This event, as well as her life in Latvia, is depicted in her first novel, Happy Girl.
At present, my life revolves around my home, my animals, my garden, my few friends, my artwork and my writing. My background lies in the visual arts. I have an MA in Art Education from Concordia University in Montreal. For many years, I taught teachers how to teach, always mindful of the maxim: Those who can, do. Those who can't, teach. Those who can't teach, teach teachers. Those who can't teach teachers, write books.
In the eighties I founded an art school for children called The New Art Space in Halifax, Nova Scotia. It was a great success and gave me much joy for many years.
Then came my big adventure – a return to my native Latvia. I write about this in my novel Happy Girl. This was followed by a move to Ottawa, where I now live a quiet life in my pretty cottage-style home with its shambolic garden and various animals – Koi, crows, cats and dog, all depicted in my most recent novel Kolka.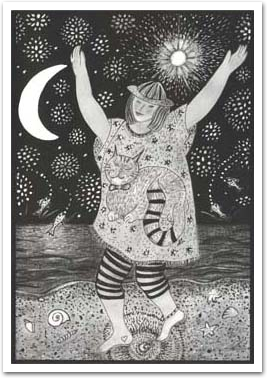 For me, art is serious play. When I'm working, my play of words and images becomes a medium by which to communicate something unique and authentic about myself and about my place in the universe. Everything I write comes from a very personal experience-almost always from a traumatic and painful event in my life.
I can sum up why I write in a very few words: It's only when I write that the madness stops.